Global Workers' Organization, Taiwan (GWO) has been providing multilingual information of labor laws, Mandarin teaching, continuing education, up-skill training and job-matching for foreign workers, students and spouses living in Taiwan since 2013. We are dedicated to protect migrant rights and enhance common equal value between foreigners and local society via diverse classes, cultural events and international cooperation in Taiwan.
In 2022, GWO was granted the permit by Ministry of Labor to develop non-profit and fair employment service, and also certified of the Talent Quality-Management System (TTQS) to be the first professional organization on job training for migrant workers in Taiwan.
GWO believes that workers in the world are equal, and the host country should offer legal protection and diverse help to migrants based on the value of human rights and equality. We highly expects to fulfill principle of "Nothing about us without us " and initiates participatory empowerment actions with migrant workers in Taiwan.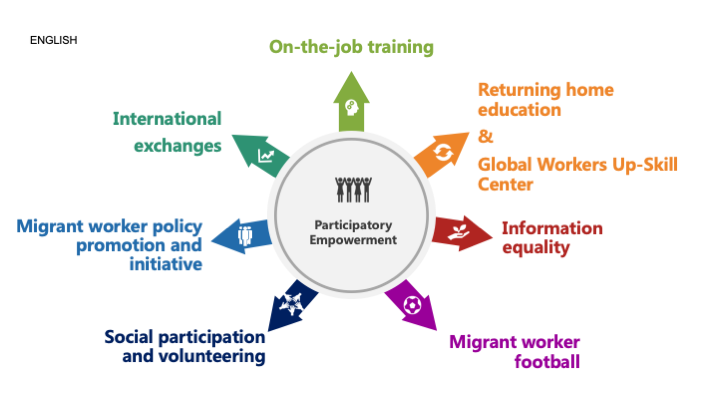 GWO welcome any stockholders concerning the migrant rights, continuing education and related issues to have positive dialogue and cooperation.
Please contact
E-mail: 1955yes@gmail.com/ Tel: +886-2-23751231
PRESS
Taiwan employers consider Indonesian workers as family https://reurl.cc/rZmWoE
Workers prepare for life back home https://reurl.cc/rZmW5x
Foreign workers urged to record work life https://reurl.cc/eWeYdK
Southeast Asian Volunteer in Taiwan https://reurl.cc/mZV1M9
Migrant worker football league takes off in Taiwan https://reurl.cc/ympVDO
AFC2023 : Diverse communities unite through football in Chinese Taipei https://reurl.cc/VRrVmn